Jonathan's childhood was inundated with The Monday Night Wars, Role Playing Games, Heavy Metal and Gangster Flicks.He spends some of his time body building, watching movies and going to concerts, and far too much of his time writing screenplays.
Latest posts by Jonathan Johannes (see all)
The Undertaker would win a WWE Championship number one contender's match against Kurt Angle and Chris Benoit for the right to face Brock Lesnar at Unforgiven 2002.  In the weeks leading up to their title match, the two would get involved in personal conflicts, as Paul Heyman and Brock Lesnar threatened Taker's then pregnant wife Sara, and then attacked him once he tried to save her.
The actual title match ended in a double disqualification, when both combatants repeatedly went for weapon strikes, Matt Hardy interfered, and Lesnar attacked the referee.  The feud would continue post Unforgiven, when Lesnar helped Hardy win a Falls Count Anywhere match against the Undertaker and breaking Taker's hand.  In response, Smackdown general manager Stephanie McMahon ordered a rematch for between Lesnar and Undertaker at No Mercy for the WWE Championship, and it would be a Hell in a Cell match.
Lesnar and Heyman would then bring a woman named Tracy into the feud, who claimed that Undertaker and her had an affair, sending a rift between taker and his wife and distracting him leading up to the match.  Undertaker would attack Lesnar with a cast on his arm.  Lesnar and Heyman demanded that the cast be removed before the match, but Stephanie dismissed their request.
Lesnar vs. Taker had everything you could want in a Hell in a Cell match.  Undertaker's broken hand was the center of the match's storyline.  Taker used the cast as a weapon to bust open Lesnar's forehead.  Lesnar put the broken hand into several submission holds.  Paul Heyman fed a belt into the cell, which Lesnar used to trap Undertaker's broken hand against the cage.  Heyman held the hand in place, and Lesnar crushed Taker's hand with a chair over and over again.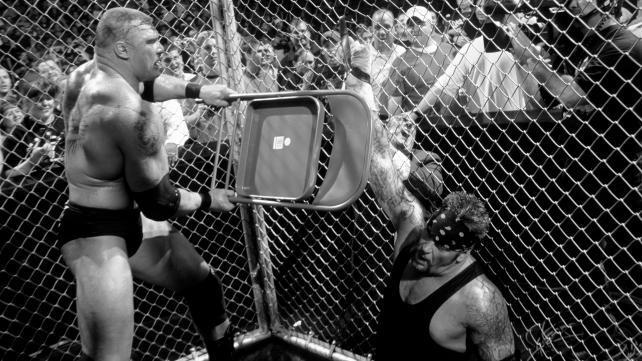 The cell has never been used as a better weapon.  Not only were both combatants thrown against the cell like usual, but both combatants used the cell for leverage for several painful looking maneuvers.  For instance, Undertaker climbed the cell to get more height on his stomps and a flying knee to a downed Lesnar.  Lesnar would use the cell's ceiling to help deliver some vicious looking kicks to Taker's face.
Undertaker gets busted open when Lesnar hits him in the face with a set of steel steps.  Blood would drain from Taker's face for the rest of the match.  By the end, he would be wearing a crimson mask, making him look like a madman during his last string of offense.
Lesnar kicks out of a Chokeslam.  Lesnar attempts to hit The Last Ride, but is reversed.  Lesnar reverses Taker's attempt at The Last Ride, runs Taker into a corner with some shoulder tackles, then climbs the ropes for a series of punches.  Taker grabs Lesnar and hits him with The Last Ride.  Taker hesitates for too long, and Lesnar is able to grab the ropes during the pin attempt.  Undertaker goes for a Tombstone, but Lesnar reverses it, and in an incredible feat of strength, throws Undertaker over his shoulders and hits an F5 for the victory.
After the match, Lesnar climbs the cell and raises his championship in triumph.
In watching the history of WWE's Hell in a Cell matches, I think this is easily the best match I've seen thus far.  The ending made a young Brock Lesnar look like a monster, especially considering how much interference took place in his previous battle with Undertaker at Unforgiven.  Paul Heyman was (mostly) unable to interfere with the match, leaving him to make commentary from the outside, his fear when Lesnar was being dominated early, and his maniacal cheering when Lesnar took control.  The broken hand really came into play for most of the match, and only broke the illusion of the match when Undertaker hit Lesnar with a Chokeslam using his broken hand.
Following the match, Undertaker gave respect to Lesnar during a promo, but was interrupted and attacked by Big Show and taken off television. Lesnar would defend his title against Edge at Rebellion 2002 before getting into a feud with Big Show.
At Survivor Series 2002, Lesnar would hit Big Show with an F5, but Heyman interfered on behalf of Big Show, eventually leading to his first pinfall loss, and turning him into a babyface in the process.  Lesnar interfered with Big Show's first title defense against Kurt Angle, causing him to lose the championship.
Lesnar defeated Big Show at Royal Rumble 2003, earning entrance into The Royal Rumble match.  Lesnar would win that match, last eliminating the returning Undertaker and eventually winning his championship back against Kurt Angle at WrestleMania XIX.   Undertaker would resume his feud with Big Show, and defeat him at No Way Out 2013.  The feud continued into WrestleMania, where Undertaker would win a handicap match against Big Show and A-Train with the help of Nathan Jones.
Hell in a Cell would return at Bad Blood 2003, pitting The Game vs. an old clique' ally, with a very special guest referee.