Latest posts by Barry Lee Dejasu (see all)
Welcome to Adapt This!, a column dedicated to various works of fiction that haven't yet been adapted into film or television…but that really should be.
First up, let's take a look at a novel released earlier this year by prolific, multi-genre fiction author Stephen Graham Jones, called Mongrels.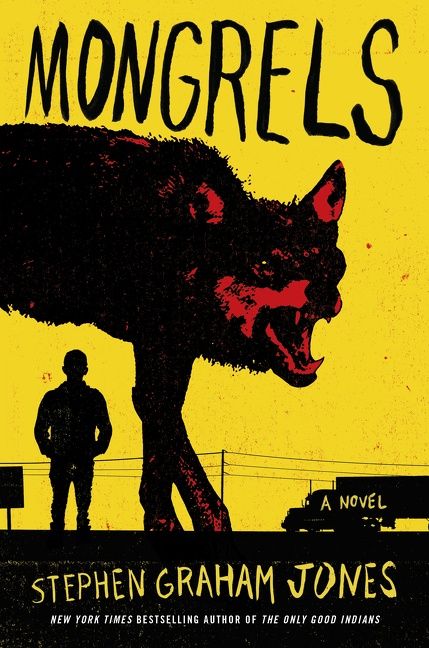 What's It About?
A teenager is living constantly on the move in the American south with his aunt and uncle. They never stay in one place for long, and constantly have to change their identities; but they're not criminals—they're werewolves.
What's Cool About It?

We live in a time when the fundamental horror monsters—ghosts, vampires, zombies, and of course, werewolves—are more than merely "out of style;" in fact, many a writer simply stays far, far away from such subjects, with an unspoken challenge to write something featuring one of these monsters that's original, engaging, and satisfying. Stephen Graham Jones took that challenge—and he delivered something wholly unique.
Mongrels is a deeply unusual werewolf novel in many ways. Jones doesn't portray werewolves as creatures of lunar terror, nor as forlorn warriors; instead, he paints them in a vividly empathetic light. They're pathetic and lonely; constantly on the run and always getting into trouble—in more ways than you can shoot a silver bullet at.
Every myth and trope associated with werewolf lore is called into question, as the unnamed narrator speculates about what he may look forward to with his potential first transformation. Yet while many of the classic elements and tropes are explored, many others are deconstructed, dismissed, and even ridiculed, often by the amused uncle and aunt themselves.
There's also a number of brilliantly imaginative breakdowns of how the physics of being a werewolf come into play, most memorably the necessity of taking out the garbage before nightfall, because if one shifts in the middle of the night and smells food in the garbage, they're likely to eat everything in it, including things that will be extremely harmful or even fatal to their human bodies when they change back.
And it's not just the postmodern takes on lycanthropy that make Mongrels so memorable; it's the fact that at its core, it's something of a quirky, painful, and deeply moving drama about a most unusually dysfunctional family.
By turns, it's sad, scary, morose, laugh-out-loud hilarious, touching, disgusting, weird, and utterly beautiful, and sometimes a brilliant combination of any and all of the above. Mongrels would make for a sensational movie, or even a TV series or miniseries. The question then, however, is…
 How Would It Adapt?
The nameless protagonist's monologue is key to the story. His uncertainties, fears, and anxieties as a weary teenager cut straight to the bone with painful sympathy. A good actor in front of the camera is, of course, a necessity, but because his introspective observations play into the story so much, a voice-over monologue would take things to a whole other level.
As far as special effects go, there are a number of physical transformation scenes, a few of which occur very swiftly. A combination of practical effects and (limited) CGI would work well for these; as this novel is largely comprised of scenes of people talking indoors, and not one action-packed sequence after another. Most of the time, the werewolves are in their human shape, talking like humans and acting like humans (most of the time, anyway).
Finally, given the nature of this story, it would absolutely need to be rated R. It's not merely a case of being a story that would come across more potently with more bloodshed and adult content and language. Even with its young protagonist and unusual quirks, this is very much a mature and grim werewolf story.
 Who Should Direct It?
With the novel being as funny as it is dark (at times, it comes across almost as a dysfunctional family road trip drama), the director would need to have a good knack for comedy, drama, and horror.
Norwegian director André Øvredal would be a good candidate. In his international breakthrough, Trollhunter (2010), he perfectly delivered straight-faced suspense and action, which made its many surprising moments of humor all the more potent.
There's also Jemaine Clement and Taika Waititi, the writer-director team behind 2014's surprisingly dark and gut-bustingly funny vampire mockumentary What We Do In the Shadows. Unfortunately, they're already developing a spinoff of that movie…and incidentally, it's also about lycanthropes, and called We're Wolves.
Nowadays, however, there have been many directors jumping from one genre into another, with often surprising results.  Just look at James Gunn, who has bounced around from horror (Slither, 2006) to action (Super, 2010) to science fiction (Guardians of the Galaxy, 2014), all while retaining an infection sense of humor.  Hey—what's he up to after he finishes up Guardians of the Galaxy, Vol. 2?
Where Can I Read It?

Until it gets a proper motion-picture adaptation, Mongrels can be read in hardcover and ebook, from William Morrow, an imprint of HarperCollins Publishers.